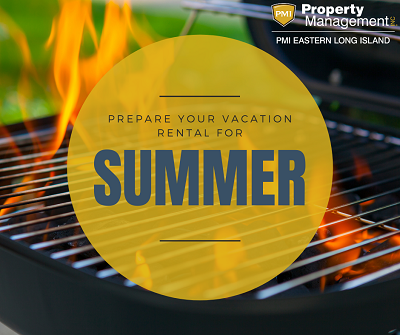 With summer right around the corner, now is the time to make sure your Long Island vacation rental is the perfect destination for your summer guests. Whether they are coming for the full summer or just a short getaway, here are 5 tips to getting that 5 star review.
Prepare your welcome packet: Your guests expect all the essential information to be easy to access – the WiFi password, garbage pickup information, lawn and pool cleaning schedules, etc. But take the time to go the extra mile and provide tips on making their stay unforgettable. Recommendations on beaches, restaurants and local activities, plus the in-season produce at the North Fork's farm stands are all nice touches. Not sure what to include? Your property manager can craft one for you.
Put together a beach kit: Your guests are surely looking forward to some time on one of the North Fork's beaches. Beach chairs, towels, a beach caddy, and a cooler are all items they likely didn't bring with them, but would love to have access to. A small investment will go a long way towards making your guests happy.
Invest in outdoor furniture: There are plenty of activities to enjoy on the East End of Long Island, but many guests just want to get away and relax. Make sure your backyard is a comfortable oasis so they can truly enjoy their summer stay
Get your grill ready: The amazing produce and seafood the North Fork is known for tastes even better off the grill. Make sure you have one available for your guests. Now is a good time to make sure it's clean and in working order. You should have at least 2 tanks of propane ready for your guests, so they don't have to worry about running out. Your property manager can also make sure they are refilled in between guests.
Add a fire pit: This is one of the hottest features of summer rentals – no pun intended! A simple wood burning fire pit is affordable and provides a rustic ambiance, while a propane fire pit is more convenient for guests. Make sure you have enough of your chosen fuel for your guests to get started – either wood (quick lighting fire logs are a great choice) or extra propane tanks.
A few simple steps can turn your vacation rental from a place to stay into a North Fork destination worthy of great reviews and higher rates. To maximize your rentals, turn to expert advice and professional vacation property management. Contact PMI Eastern Long Island today to get started.