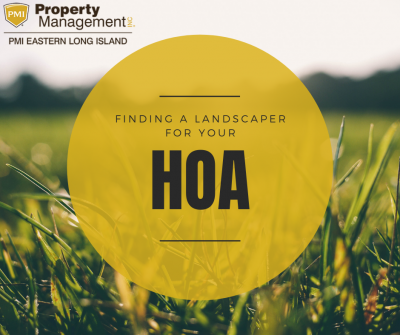 Landscaping for common areas is on every HOA board member's mind this time of year. But it's not just the common areas you should be thinking about. As the flowers begin to bloom, you'll likely start getting questions from your homeowners, even if they're responsible for their own property. Finding the right Long Island landscaper is the first step in getting your HOA ready for the North Fork spring and summer. Here are a few tips:
Ask for recommendations – These are your best bet, especially in small towns like those on the East End. The local companies really thrive on Word of Mouth, so there's no substitute for talking to their clients about their services. Find board members of other North Fork HOAs and ask who they use and if they're satisfied. You can also check reviews on sites like Angi (formerly Angie's List) and Thumbtack if you don't have luck with your personal network. And once you find a company, ask them for referrals.
Ask the right questions – Before signing a contract, make sure you have a chance to interview a couple of prospective companies. Be prepared with the important questions to ask, such as
What specific services do they offer? Not all landscaping is the same, so make sure they can meet the needs of your association. Do they manage shrub and tree pruning? What about irrigation and drainage? Are your common areas mostly grass, or do you have a lot of mulched areas and flower beds that they will need to handle?

Do they offer any added value services? It's not always about the lowest price. Some companies might offer additional services for your HOA that can make them cheaper in the long run. They may also be able to offer your homeowners lower rates for their non-common areas.

How often are services provided? And can they offer additional services as needed for a reasonable rate?
Think about an association management company – Finding a landscaper is just the start. You will also need to coordinate with them and your HOA throughout the spring, summer and sall. Plus you'll be the point of contact between them and the rest of your association. You can spend less time worrying about landscapers and more time enjoying the North Fork spring in your common areas if you let an East End association manager do all the work for you.
Ready to take one more item off your plate? Contact PMI Eastern Long Island today and let us manage your landscaper and so much more.